The Honda EU2200i is a portable inverter generator that has been designed with an emphasis on performance, reliability, and quiet operation. It is a popular choice among RV enthusiasts, campers, and homeowners seeking a dependable backup power source. In this detailed review, we will examine the key features of the Honda EU2200i, as well as its advantages and potential drawbacks.
Performance and Power Output
The EU2200i is powered by a reliable Honda GXR120 engine, providing a maximum output of 2200 watts and a rated output of 1800 watts. This is sufficient to power a variety of household appliances and tools, making it an excellent choice for recreational activities and emergency situations. Users have reported that the generator can efficiently run air conditioners, refrigerators, televisions, and even power tools with ease.
Inverter Technology
One of the standout features of the Honda EU2200i is its inverter technology, which ensures a stable, clean power output. This is particularly important when powering sensitive electronic devices, such as laptops and smartphones, as it prevents damage caused by voltage fluctuations. The generator's Eco-Throttle system also adjusts engine speed based on the load, resulting in improved fuel efficiency and reduced noise levels.
Noise Level
One of the standout features of the Honda EU2200i generator is its low noise level, making it an ideal choice for users who prioritize quiet operation. The generator is designed with advanced inverter technology, which not only provides clean and stable power but also contributes to reduced noise emissions.
The EU2200i operates at a noise level ranging between 48 to 57 dBA, depending on the load. This is remarkably quiet when compared to conventional generators, which often operate at noise levels above 70 dBA. The generator's low noise output can be attributed to several design elements, including:
Eco-Throttle System: As mentioned earlier, this feature automatically adjusts the engine speed to match the power demand, resulting in lower noise levels during operation, especially at lower loads.
Advanced Inverter Technology: Inverter generators tend to be quieter than traditional generators, as they use a more sophisticated method of producing electricity, which results in less mechanical noise.
Enclosed Design: The EU2200i features an enclosed body, which helps dampen engine noise and results in quieter operation.
Noise-dampening Materials: The generator's construction incorporates materials that are designed to absorb and reduce noise emissions, further contributing to its quiet performance.
Portability
Weighing in at just under 47 lbs, the EU2200i is lightweight and compact, with dimensions of 20.0″ x 11.4″ x 16.7″. This allows for easy transportation and storage. Its ergonomic handle design further enhances its portability, enabling users to carry it comfortably.
Ease of Use and Maintenance
The Honda EU2200i is designed with user convenience in mind, featuring a simple control panel with color-coded startup points for easy operation. The generator is equipped with an Oil Alert system that automatically shuts down the engine when the oil level is too low, preventing damage and ensuring a longer lifespan. Furthermore, users have found the generator easy to maintain, with convenient access points for oil changes and other routine maintenance tasks.
Fuel Efficiency
The Honda EU2200i generator is designed with fuel efficiency in mind, ensuring that users can get the most out of their generator while minimizing fuel consumption. The generator features Honda's Eco-Throttle System, which automatically adjusts the engine speed to match the power demand. This means that the engine will only run as fast as necessary to produce the required power, leading to lower fuel consumption and extended run times.
In addition to the Eco-Throttle System, the EU2200i is equipped with a 0.95-gallon (3.6 liters) fuel tank, which can provide power for up to 8.1 hours on a single tank of gasoline at 25% load capacity. This extended run time allows users to enjoy the benefits of the generator for longer periods without the need for frequent refueling.
Moreover, the EU2200i features a fuel shutoff valve, which enables users to run the engine until the fuel supply is cut off. This helps prevent stale fuel issues and ensures smoother operation when starting the generator after storage.
Parallel Capability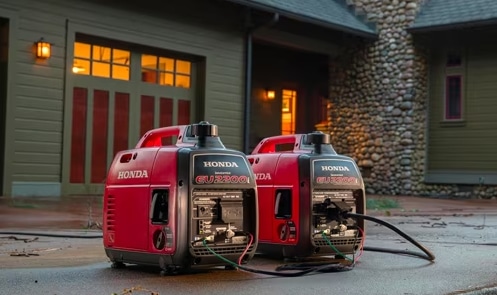 The Honda EU2200i generator offers the possibility of doubling its power output by connecting it to another EU2200i unit through parallel capability. This feature enables users to combine the power of two identical models using an optional parallel cable, resulting in a total of up to 4400 watts of power. This increased power capacity allows for running more appliances and equipment simultaneously, making it perfect for larger RVs, outdoor events, or job sites.
Notably, the EU2200i is also compatible with the older EU2000iK1/T1 models for parallel connections. To determine if your EU2000i model can be paired with an EU2200i, consult the complete serial number list provided on Honda's website or in the product manual.
Honda My Generator App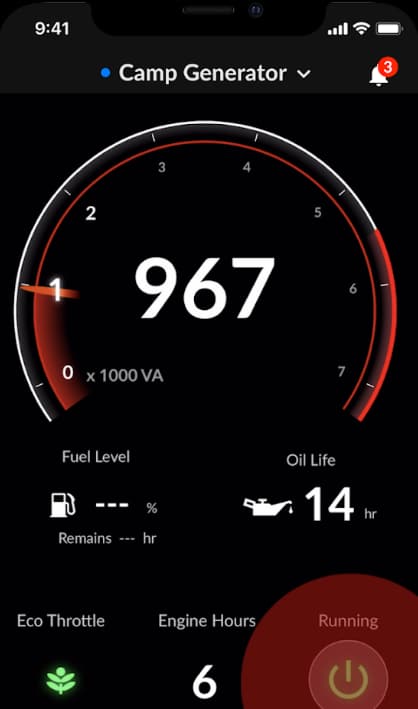 The Honda My Generator app provides a seamless way to control and monitor your Honda EU2200i generator using Bluetooth® technology.
Key features of the app include the ability to monitor output power, engine operating hours, oil life, and estimated run times based on power usage. Users can also receive warnings and maintenance reminders, and control multiple compatible Honda generators from a single mobile device. The app allows for remote stopping and monitoring.
The Honda My Generator Bluetooth® App is compatible with selected Apple devices and Android smartphones, including iPhone 6, 6S, 6 Plus (and newer), iPad Pro 13.3 (and newer), and Android smartphones using software versions 9.0 (and newer). To install and operate the app, simply download it and follow the pairing instructions. Enhance your generator experience with this innovative app, providing valuable information and flexible operation in the palm of your hand.
Potential Drawbacks
While the Honda EU2200i is highly praised by users, there are a few potential drawbacks to consider. Firstly, the generator does not come with oil included, which may be inconvenient for some users. Additionally, a few customers have reported initial difficulties in starting the engine, although these issues appear to be rare and can usually be resolved with proper startup procedures.
Honda EU2200i Generator: Summary of Buyer Reviews
26 Reviews Update (April 2023)
After analyzing the customer reviews of the Honda EU2200, the following report highlights key aspects of the generator:
Performance and Reliability: Customers are overwhelmingly pleased with the Honda EU2200's performance, particularly when it comes to running RVs and campers. Many users found the generator to be reliable, even when used in tandem with another Honda generator.
Noise Level: The Honda EU2200 is praised for its low noise level, with users reporting that it is quieter than other brands. This feature is particularly appreciated by customers who enjoy camping, as it does not disturb their neighbors.
Portability: The generator is lightweight enough for many users to move it around easily, with one woman mentioning that she could pack it easily.
Ease of Use and Maintenance: Users found the Honda EU2200 to be easy to use, service, and maintain. Several customers specifically mentioned the user-friendly owners' manual.
Fast Shipping and Great Customer Service: Customers reported receiving their generators quickly and praised the seller for their efficient service.
Price: While some users felt the generator was a bit pricey, most agreed that the product was worth the investment due to its quality and dependability.
Minor Issues: A few customers reported issues, such as the generator not coming with oil and difficulties initially starting the engine. However, these instances were rare, and most users were satisfied with their purchases.
In conclusion, the Honda EU2200 generator receives high ratings from customers due to its performance, low noise level, portability, ease of use, and excellent customer service. Despite a few minor issues, the majority of users believe the generator is worth the investment.
Final Thoughts
The Honda EU2200i inverter generator offers a powerful, portable, and quiet power solution for a wide range of applications. With its reliable performance, user-friendly design, and low noise levels, it is an excellent choice for both recreational and emergency power needs. While there are a few minor drawbacks, the overall value and dependability of the EU2200i make it a worthwhile investment.
Honda EU2200i Inverter Generator FAQs
How do I store the Honda EU2200i generator for an extended period?
Before storing the generator for an extended period, drain the fuel from the carburetor and fuel tank, change the engine oil, and clean the air filter. Store the generator in a cool, dry place away from direct sunlight, moisture, and flammable materials.
What type of oil should I use for the Honda EU2200i?
Honda recommends using high-quality SAE 10W-30 engine oil for the EU2200i generator. Check the owner's manual for more specific guidelines on oil types and maintenance.
Can the Honda EU2200i power sensitive electronics?
Yes, the Honda EU2200i features advanced inverter technology that produces clean and stable electricity, making it safe to use with sensitive electronics like laptops, smartphones, and other digital devices.