Whether you're spending time in the great outdoors or an overnight guest in someone's home, a comfortable camping cot can make all the difference, camping cots are designed specifically to provide a comfortable sleeping surface and come with features such as built-in backrests, adjustable legs, and extra cushioning to ensure your restful nights when roughing it on a camping trip.
Factors to Consider When Purchasing a Camp Cot
Comfort
When choosing the right camp cot, there's a tradeoff between comfort and portability. If you prioritize comfort, then your best bet would be to go with a larger cot that offers plenty of space and padding for a cozy night's sleep. However, this option limits mobility; it's much harder to transport these larger cots, especially on long hikes or backpacking trips. On the other hand, heavier cots that are specifically designed for simpler packing still lack many of the creature comforts offered by less portable models.
When considering which type of camp cot is best suited for you, it's important to take into account where and how you plan on using it. For example, if you're going on a long hiking or backpacking trip, selecting a lightweight model or one that can be easily broken down into smaller pieces is key to ensure greater ease of transport. Although foregoing comfort for convenience may not seem ideal at first glance, the tradeoff can help make the journey easier in the long run.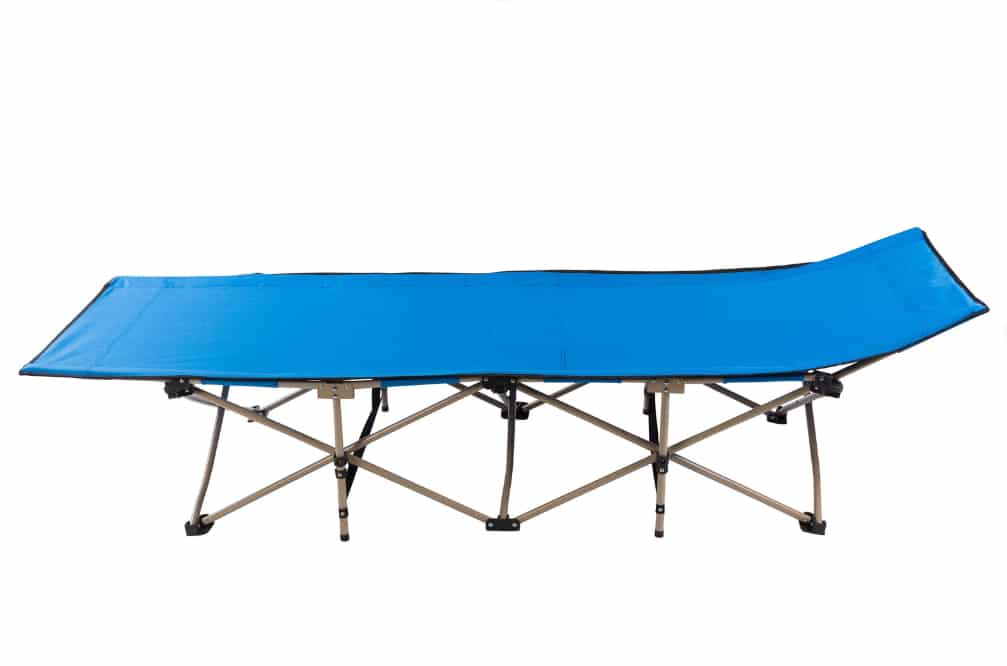 The designated sleeping space
If you're buying a cot for an adult, it should be long enough to accommodate people as tall as 6 feet and wide enough for two people to fit comfortably; a standard width of 2 feet should suffice. However, if the height or size of the person sleeping on the cot is outside the norm, there are options available. Most cots offer XL and XXL versions which are typically longer and wider than standard sizes and will provide sufficient room for taller or wider persons.
Cushioning
A necessary factor to consider when purchasing a camping cot is cushioning. Most cots do not come with cushioning attached, so campers must note how firm the sleeping area is before making a purchase. Generally, it is composed of some type of polyester fabric which can feel too hard for a comfy rest. If the cot does not provide enough cushioning to accommodate your comfort preferences, adding an additional sleeping pad may be beneficial.
While campers have varied needs when it comes to cushioning, investing in the right cot that fits personal comfort levels will ensure we get through our outdoor adventure feeling recharged and ready to explore the next day!
Weight & Packed Size
When you're in the market for a camping cot, typically, weight and packed size should be at the top of your list of considerations. The majority of camping cots vary greatly in both of these areas, with some being bulky and heavy while others are smaller and lightweight. Generally speaking, most camping cots on the market today are designed for car camping and may lack portability when it comes to hike-in trips; however, there are some exceptional products that offer tremendous packed sizes and minimalistic weights.
Durability
Durability is an important factor to consider when shopping for camping cots. We have determined that there is a proportional relationship between weight and durability with this type of gear. Heavier cots usually signify a sturdier build, as they are likely constructed using heavier metals such as steel or steel alloys. These tougher materials ensure that the cot can withstand drops and whatever vigorous activities a bed might be faced with, whether it's exhausted campers flopping down or wild children roughhousing around it. This makes heavy car camping cots; an excellent choice if you value having a long-lasting product.
Although a heavier camping product may be more costly, it will often last much longer than its lightweight counterparts. Considering what the cot will be used for will give you a good indication of how much weight you should sacrifice for durability's sake. If your campsite is rather secluded and the only movement on your trip will involve human contact in some form, then lighter options are great. However, bear in mind that if kids or animals are involved, investing in something slightly bulkier and tougher would be the best option to ensure your purchase lasts season after season.
Frame Designs
When designing a camping cot, many factors should be considered. Among those is the frame design, which can vary from product to product. The most common type of design involves using support bars that tightly stretch fabric across all four sides of a rectangular frame. This creates a robust and secure base for resting gear and sleeping comfortably; however, this set-up also requires taking extra time to assemble it properly.
For campers looking to save a bit of time while still enjoying the comfortable features of a cot, another option is the easy-up frame design, which removes the short ends of the frame altogether. This significantly reduces the amount of time needed to assemble and break down your cot while still providing comfort and security during sleep. Although these designs are not always as taught as traditional frames, they can prove more comfortable for stomach sleepers or anyone who might normally find their feet hanging off the sides in other designs.
Ultimately, it's advisable to shop around for reputable manufacturers and sellers when purchasing a cot so that you're ensured quality products regardless of what design you ultimately choose.